Our Dedicated Volunteer Committee
Give Hope Wings would not exist without the dedicated support and leadership of volunteers. Please get to know our 2023 volunteer committee/Hope Airforce: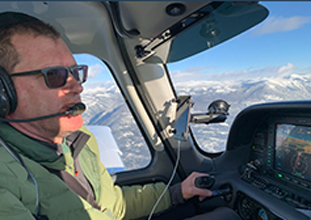 Rupert (Chief Expedition Leader):
Rupert began his flying career in 2017 earning his EASA Private Pilot Licence in Shoreham, UK. As a member of the West London Flying Club (White Waltham) where he flew Piper PA-28 Cherokee aircrafts. In2019, Rupert migrated to Canada and received his Canadian Private Pilot Licence and flew a Cessna 177 to Nelson, BC and purchased his SR22 aircraft in 2020. Rupert is heavily involved in the aviation community as a volunteer with Air Cadets in Nelson, Chair of NADAS, non-profit, maintenance and ops at Nelson Airport (CZNL), Angel Flight pilot with Angel Flight East Kootenay, ember of Trail and Nelson Flying Clubs, and member of the BC Aviation Council. Rupert flew in his first Give Hope Wings Expedition in 2022 as a Coast to Coast participant.
Steve (Expedition Captain):
Steve obtained his first pilot licence in 1990, flying helicopters. He later added a fixed wing private licence in 1993 and a multi rating in 1998. Steve owned and operated a small flight school/FBO in British Columbia's Okanagan Valley from 1995 to 2002. After taking a break from aviation in 2002, he resumed flying in 2015 and purchased his current aircraft, a Piper Cherokee, in 2018. Within a year of that purchase, he joined two other pilots for the second Give Hope Wings Expedition to Northern Canada and Alaska. 2019 was also the year he joined the Hope Air Advisory Board. Steve has since been an organizer and participant in the 2021 Give Hope Wings Boundary Bay to Hudson Bay Expedition and the 2022 Give Hope Wings Coast to Coast Expedition. Steve is the editor and publisher of Canadian Aviator magazine.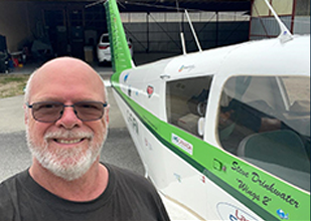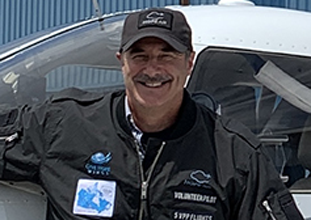 Ed (Expedition Captain):
President of the Board for Brantford Flying Club, Ed, earned his Private Pilot Licence in 1976 through the Air Cadets and his Commercial Pilot Licence in 2004. In 2005 he became the proud aircraft owner, a CGKVK. With these credentials, Ed has emersed himself in the aviation community. He has flown hundreds of Kids across many events- Young Eagles/ Girls Take Flight/Discover Aviation, been an active COPA member (since 2002). In 2015 he joined the Hope Air community as a Volunteer Pilot and flew his first mission in 2016. As a member of the Hope Air Advisory Council and Pilot Review Committee, Ed understands firsthand the challenges patients face when accessing healthcare. After obtaining his Instrument Rating in 2022. Ed took part in his first Give Hope Wings Expedition.
John (Expedition Captain):
Like many 'flying families' as a kid John would go flying with his father on Saturday mornings; that's where he got passion for aviation. In 1987, John received Private Pilot Licence, then checked out on a tailwheel Bellanca Scout. He has since received both his multi-rating and instrument rating. In 2015 he received his Seaplane Rating and purchased an American Champion Scout (8GCBC) amphib. CGWGT and Cessna 337. John joined the Hope Air community in 2018 as a Volunteer Pilot and is always looking for ways to fundraise and get involved. He has been an active member in the aviation community as a past COPA 203 executive, FlightFest event steering committee member, participant in COPA for Kids/Discovery Aviation, participant in Oshkosh EAA (Experimental Aircraft Association).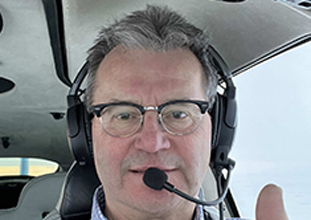 Doug (Expedition Captain):
Doug credits his father for his early interest in aviation, attending many airshows and museums. He obtained his private pilot licence while working in Edmonton for a summer between university terms, but then his career and family obligations put flying on hold. In 2013 Doug joined the Regina Flying Club and started flying again and obtained a night rating. He purchased and flew 600 hours in a Cherokee Warrior airplane around Canada, the U.S. and the Caribbean. In 2017 he obtained an instrument flight rating and purchased a Cirrus SR22T airplane in 2018, which he has flown it extensively in Canada and the U.S., both on personal and business trips.
Doug served as president of the Regina Flying Club from 2018 to 2023, becoming past president in 2023. He is a volunteer pilot for Hope Air and a member of the Canadian Aircraft Owners Association.
.